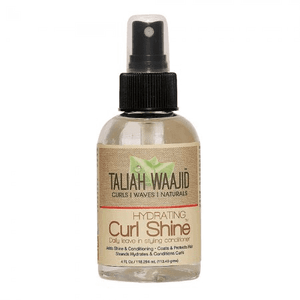 Taliah Waajid Hydrating Curl Shine, 4 oz
What it Does: Your hair and skin will love this product! Nutrient Rich Shine Butter™ is a nutrient-filled hair and skin butter formulated with natural moisturizers, Shea and Avocado butter, and herbal extracts. Eliminates dry hair, skin and scalp on the spot! This nutrient-rich formula feeds the hair and skin to maintain a healthy balance. This silky smooth "butter" eliminates dryness, leaving hair and skin nourished and healthy-looking. It's also great for problem areas such as knees, elbows, heels and cuticles. Leaves your skin feeling hydrated, soft and smooth. A delicious combination of rich, natural nut butters such as Avocado, Shea and aromatic herbal extracts will delight the senses while leaving your hair and skin soft as butter!

Ingredients: Soybean Oil (Glycine Soja Oil), PEG 75 Shea Butter (Butyrospermum Parkii), Sunflower Oil (Helianthus Annuus), Avocado Butter (Persea Gratissima), Jojoba Oil (Simmondsia Chinensis), Fragrance (Parfum).